LOCAL CUE SHEETS TEXT VERSIONS


Many KBA ride sheets are not currently available at this site. A few of our rides and many of the Tri-Cities Road Club rides including the '98 Gear South routes are ARCHIVED at the archive.org Site. or many of them are copied here Gear South 98 Cues. These are vintage maps, so some things may have changed! Also at their site: Area Climbs. Also try Johnson City Bike Paths The KBA has a collection of over 50 "local" routes we use, most with map versions in PDF format.
These Cue Sheets are are the property of the KBA and are NOT for distribution or sale. Cue-sheets & Maps are for general reference to a ride area, and will show one possible way of getting to a destination and back, but not necessarily the "newest" or best way. Routes are not cast in stone and may vary some from maps / cue-sheets, some of which are very old! and may not reflect current stops or newer/ improved routes sometimes created to get away from new subdivisions and back to more rural routes. Be open to try a new variation, you may even like it better! In general, the HTML cue-sheets are more up-to-date than the PDF map/cue-sheet combinations since they are easier to update. There are PDF scans of many of our Cue Sheets & Maps at PDF MAPS althogh the cue sheets are generally more up to date. . . .Ride Start Details here
Some route maps can be found at Route Slip.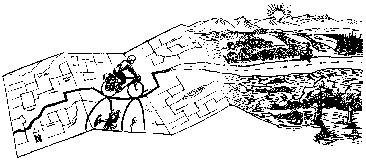 Ridelist
Abingdon from Kingsport (52/87,R)

Abingdon to Kingsport (42,F-R)

Abingdon to Damascus loop (55,R)

Old Amoco to Hwy 357 (17,25,36,R)

Amoco Abingdon Metric (64,R)

Amoco to Blountville (25,22,R)

Amoco to Bristol (24,R)

Amoco to Colonial Heights (26,R)

Amoco to Gray (23-27,R)

Amoco to Piney Flats (30,R)

Asheville to Mt. Mitchell (64,C)

Baileyton Rides (32,34,35,F-R)

BANET Metric Meander from Warriors Path SP (26,36,38,62,R)

Blowing Rock to Linville, Banner Elk (68, 47,26 H)

Burkes Garden (64,67/R-H)

Burnsville & Mt. Mitchell (50/H-F & 70/M)

Burnsville Metric (58,R-F)

Burnsville Metric - Clockwise (62,R-F)

Church of Jesus Christ LDS to Yuma Loop (32,38 OR 27,38,44,F-R))

ALTERNATE start for above JC LDS at Greenbelt parking lot at Holston River crossing

Colonial Heights MS Bam-Bam ride ( 84 81,R)

Colonial Heights MS to Boones Creek (36,32,27,H)

CHMS to Munchies or Trailblazer (19,23,29,R-F)

CHMS to Fall Branch (23,28,34,R)

CHMS to Gray Station (21,31,R)

CHMS to Gray Station: New (21,25,31,36, R-H)

CHMS to Graysburg (49,R)

CHMS to Greenbelt (41+,F-HH)

CHMS to Greeneville (66,F)

CHMS to Greeneville: Old (64,F-R)

CHMS to Sulpher Springs-Hwy 81 / Hwy 75 crossroads (32,R), 11-03

CHMS to Kingsport (31,R)

DBHS Mohawk Century (~100,F)

Eastman Employee Center- Circle Bays Mountain (25,30,47,F)

Eastman Employee Center to Yuma/ Holston River Ride (25,45,51,F-R)

ETSU over Buffalo Mountain (26,36,H-R)

ETSU over Buffalo Mountain CCW (36,H-R)

ETSU Erwin Linear Trail (~45,R)

ETSU Watauga/ Wilber Dam (57,H-R)

Gate City High School to Ft. Blackmore (36,H-F))

1st TN Bank in Gray to Boones Creek (33,H-R)

1st TN Bank in Gray to Jonesborough (20/30/40,R)

Hampton to Roan Mtn. TN (30,F-H)

Hiltons to Mendota VA (25-30+,F)

Jonesborough Easy-Spin (41,F)

Jonesborough Metric (34,66,R)

Jonesborough Metric in Reverse (39,66,R)

Jonesborough Triple Nickel (55,F-R)

Jonesborough Triple Chain Ring to Nick's (33,H-F) 4-04

Jonesborough Scenic (30,37,H)

Jonesborough to Shorty's (43,37,F-R)

Mendota Metric (61,R-F)

Mendota Metric Modified (63 or 66,R-F) 7/2016

Meadowview to Gatlinburg (109-F)

Piney Flats BS to Holston Dam (40,32,24,20,H)

Possum Creek Ridge Rides (46,H,31,23,R)

Roan Groan (28,M)

Rock Springs Road to Gray (23-38,R)

Stanley Valley Rides (22,28,42,F)

Sullivan Gardens MS to Baileyton, Romeo (40,61,82,F)

Tour De Possum Creek Revisited 2014 (20,27,32,42,46,R-H)

Tour De Possum Creek Ridge Race 2007-08 (43-44,R-H)

Tour De Possum Creek Rides (31,24,40,39,R)

Tweetsie Rides (20,25,F-R)

Unaka High School to Damascus (64,F-H)

Warriors Path State Park to Hwy 357 (21,31,R)

Warriors Path State Park to Blountville (29-31,R)

Warriors Path State Park to Perkins (18,30,37,R)

Yuma Loop (22,28,37,44,F)

Yuma School to Rogersville (59,55,F)

Jacob Fransisco Century 2006 (100,F-H) , and others

Autumn Chase Century (98,F-H)

---
www.mapmyride.com Map My Ride: Easy to use Map/Elevation/ Mileage/ special notes and markers/ public listing optional Topo overlay
www.routeslip.com- Route Slip: Easy to use Map/Cue-sheet/Elevation Generator - See above
www.toporoute.com/routePlanner.html Route mapper - follows roads
www.gmap-pedometer.com Figure the distance of courses using a GMaps hack
virtualearth.msn.com
Maps.Google.com

| | |
| --- | --- |
| Local | |
---