Roaning and Groaning
by Stewart Millen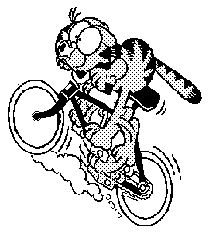 The official 1997 KBA "Roan Groan" had all of two-well, maybe three-participants in it; none of whom did the course right. Dave Calvert and I rode together from the swimming pool parking lot (about 10.5 miles to the top) whereas an unidentified older rider on a mountain bike rode (starting from the school) only up to Carver's Gap. Dave and I did not ride with this mystery rider as he started out at 5 am instead of the announced time of 9 am. Anyway, our ride could be summed up thusly: Dave was in a "zone" and sang like a lark while pedaling up the mountain, while I wore my death mask. I had to get Dave to stop at 4 miles (so I could take a, uh, bathroom break) and at 7 miles (so I could stretch my tightening right quad muscle... more on that later). And I was the one with the granny gears on my bike; Dave had a 39 crank as his lowest! (As Dave pointed out, you can only be rescued so much by the "Gear Cavalry"). I must have looked real bad, as when we were pedaling up the mountain this "blue-haired old lady" tourist (Dave's fond term) snaps my photo. Guess she likes to collect obituary pictures.
Anyway, when we reached Carver's Gap we met the mystery rider, who was sitting next to a fence munching cookies. Dave, who was "winning" the 1997 Roan Groan at this stage, stops to converse; I stop to start breathing again. The mystery rider offers Dave cookies, an irresistible offer. Little did Dave realize that mystery rider was part of my secret strategy to win the race. After munching the aforesaid tainted cookie, we decided to tackle the remaining 700 feet in the last 1.9 miles to the Rhododendron Gardens. Suddenly, Dave begins to falter (aha! The tainted cookie from the mystery rider is beginning to kick in!) while I actually felt better on this hellish part of the course then I had earlier. Still, youth (relatively speaking), guile and cunning couldn't overcome old age (again, relative) and skill and Dave reached the Garden before me.
The Garden of Rhododendrons is sorta like an out-of-body experience: you're in the clouds, there's lots of voices coming out of the mist, you can get lost in a green maze, and the whole thing is managed by two little old ladies.
Dave made his obligatory victory statement after thanking his sponsor, Calvin and Hobbes (shown on the t-shirt he was wearing) and waxed eloquent about the hard work and sacrifice all of the "little people" of Team Calvin and Hobbes had put behind him. Moving speech, really. He then signed the registry as "Dave Calvert, Winner 1997 Roan Groan" (I got to sign in as "2nd Place"). Photos of us by our bikes and a obligatory victory walk through the Rhododendron maze followed. We also purchased our victory Roan Mountain T-shirts.
After freezing Dave for a while up in the Gardens as revenge for losing the event (I had thought to bring my jacket in my bike pack, instead of leaving it at the car like Dave!) we started our descent down the mountain, pausing a couple of times while I snapped some photos. Coming down the mountain impressed us.. .we kept saying "Damn! We came up THIS!!??"
Really impressive-looking slope going down. In fact, both of us were tiring from going down the mountain by the time we reached the parking lot. My odometer showed 21.5 miles. After reaching the parking lot, warmth, sunshine and life again our focus shifted then to one little item which Dave had overlooked in driving up here: gas. The van was sitting on "Empty". Luckily, 1/2 mile up the road I had noticed a gas station; we were able to get gas while Dave sampled some local culture inside (you'll have to ask him). The rest of the trip in Dave's "Death Star" van was relatively uneventful, we were both munching on some really greasy cheesy popcorn (Dave's choice, not mine!) and Dave returned me to the B310 parking lot where I could bike home on legs (now the consistency of tapioca) and Dave could return home to de-skunk his dog, van, and home. Again, that's another story.
Editors notes: Roan Mountain lies on the NC/TN border and reaches a heigth of 6285'. Round trip from Cloudland school (at ~2500') is about 29 miles. The first 4.75 miles averages 1.5% grade. After that the grade averages 6.5% to the gap then 7.5% to the gardens and it NEVER lets up!