Kingsport Bicycle Association
A Child of the seventies, the KBA Inc. was chartered in 1977. By definition it was designed to "promote the general interest of cycling in all its phases". Over the years it has become a social/touring club on wheels, not a racing club. We are the oldest area club and only bicycle touring club serving the Tri-Cities TN-VA region. Membership is open to all adult riders and their families interested in sharing and enjoying the recreational experiences, fellowship and knowledge of bicycle touring. Unlike some large city clubs, there is never a per-ride fee. Our main objective is to just ride with our friends (and occasionally moo at cows). The low annual dues (see application) are all that is necessary for our officers to plan create and distribute a ride schedule and newsletter (the Quick Release e-mail) for our members. What better way to learn some new roads, breath some fresh air, and enjoy our favorite sport. If you like variety, we are definately the local club for you!

Come join us!

The KBA does not have monthly meetings (don't you get enough of those at work?). Our meetings are our rides! Officers meet only as often as necessary. We do have spring and fall potluck dinner meetings /programs in March and November (marking the original beginning and end of the club year), and usually a summer picnic or two. Today we have Saturday and Sunday rides year round. A typical summer schedule begins with a Saturday 8AM "wheels-to-meals" breakfast ride and a Sunday 2PM ride, usually with a short social/rest stop along the way. These rides have a "leader" rides as sweep to be sure no one gets left behind. Tuesday and Thursday 6PM rides meet at various locations and has a route decided by those present. Many holidays also have a ride scheduled. Occasional over night trips add some extra spice or just ask a member about their favorite tour. Check the Ride Schedule for details.A Cue Sheet or Map for most of our rides are available on our web site. If you don't know anupcomming ride, you are encouraged to print a copy these for your personal use should you not know a route.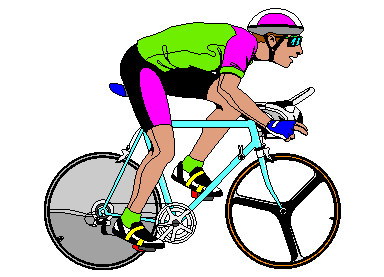 Don't be intimidated by the "fast" rider, fancy bikes and flashy clothes other riders may be wearing when you show up for a ride. Most members started with the club as "beginning" riders. We've been there, done that, liked it, and done more!. All of us have some good stories of our learning the ropes and are more than willing to share- just ask! Keep it up and you will get better in a short time. I promise.
Ride speed varies with terrain and other conditions, but you can expect a typical minimum ride pace between 12-14 mph.

The only thing we require on all rides are a bicycle and a HELMET.

Anyone is welcome to try out a couple of rides free to see if we "fit". After that it is only fair to expect all riders to pay our ridiculously low dues and support us.

Past Officers
Constitution & By-Laws

---
Last update May 01, 2009